BYOB Cologne
There was an awesome "Bring Your Own Beamer (BYOB) event in Cologne, where I participated as an artists. The event was a huge-success with some people said about 800 – 1000 visitors! I confirmed my recent interest to minimalistic projects, when it comes to videobeamer-art. "Less is more" strikes me more then "much helps much". Beeing part of an exhibition can bring own work forward by reflecting and setting work in context. I have not figured out the factors yet, when and when not this will happen. Is it the location? The people? Other works shown? Point made by own stuff?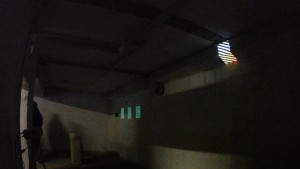 Here are some impressions of the whole exhibition:
Read more about the work at this blogpost.
Circuit Bending and Arduino Day
Dingfabrik was hosting the "Arduinio Day" again. It is a global action-day because of the birthday of the Arduino-platform. At this day Arduino went 11 and we had lots of hackers-heaven like fun and projects at the Dingfabrik. See some of the music-projects I was more or less involved in.
Laserharp, Sound-Toy Prototype, Playing with Mozzi-Lib.
The same month I stated to get into Circuit Bending. The first steps were easier then exprected. I also learned from some Dingfabrik-memebers, that it could be possible, to make circuit bending Arduino-controlled with the help of "digital potis". I also learned, that Circuit Bending is a really nice approach of doing sounds. Just open sound-things and mess around!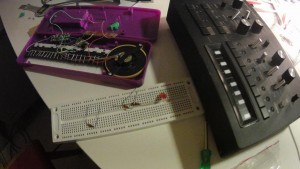 Oscillot and PureData Stuff
I made some conceptional works and experiments with PureData and Ableton / Oscillot. Influenced by the book "Code Simplicity" I experimented with a "minimal tool" that generated "music patterns" – a patch started to realize in PureData.
Next experiments went into the direction of "opening the music to external parameters" to make some sort of "nature-embedded soundart". Here for example a PureData-patch, that generates an "alien-voice" directly connected to voice input into microphone.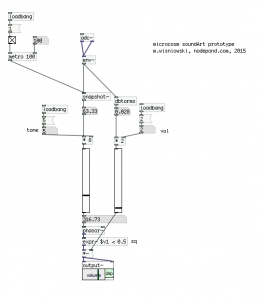 This is a prototype exploring "complex sound patterns with just two main oscillators". The thing, that the mouse doing in this video should be later made by sensors. I tried to make rich, complex sonic possibilities with a minimal technical effort. And yes – I had embedded microcontrollers in mind!
Another Oscillot Ambient Drone Session. This piece is dark and sonic with a totally psychic atmosphere. A live-improvisation featuring Ableton Live / Oscillot. It is based around tons of delays and sensitive tweaking of resonance-frequencies. Oscillot helps in making crazy LFO modulations happen.
Pixelart
Still into pixel-art jamming. Here are some results.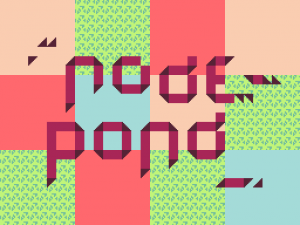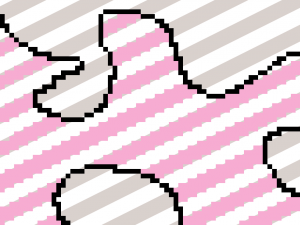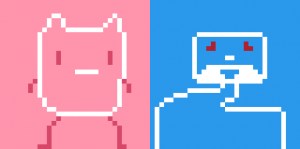 Music
This is not a finished track, but more a sketch about exploring some dub-concepts further, that are ongoing in my head right at the moment.
Kreatifrühstück
I presented our "Flying Orlov" Media-Art Sculpture at the "Denkwerk Kreatifrühstück". There should be a video of this talk released on some day in the future.
Other stuff
1. Mobile-radio-band: An excellent concert with self-build, modified and circuit-bended instruments at Opekta-ateliers.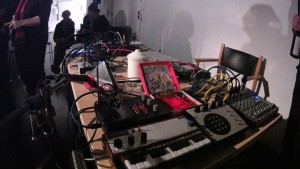 2. I've put together a small playlist on YouTube with productions, that are based around "Cologne Netaudio". We had lots of Netaudio (Creative Commons Music) community-activities in Cologne, with the best days between 2008 and 2012. We had regular meetings, sticked together making a two netaudio-festivals, called the "Cologne Commons". I thought, this YouTube playlist would be a good idea, to have some sort of "place" for the stuff we made.
3. Last words: This is how to finish your game-project!
Connect @nodepond
Connect to get more recent updates on everything I make. Like me on Facebook or follow me on twitter @nodepond.